Writing Courses, Holidays & Retreats in Costa Rica
Welcome to our Creative Writing Retreat in
spectacular Costa Rica!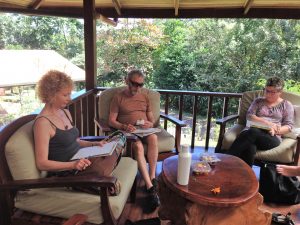 Imagine writing in a hammock while a flock of parrots screeches by and a sloth blinks lazily from a nearby tree. Picture yourself scribbling down ideas while you lie beside a sparkling pool and hummingbirds flit past, attracted by the tropical flowers. Imagine taking creative writing workshops under a rain forest canopy with others who share your interests. Sound appealing? Then join us for an experience of a lifetime at our writing retreat in La Fortuna, Costa Rica.
We all crave inspiration, once in a while; the time to dream, the space to think, the energy to pour into a creative project. We need to recharge, to reassert belief in ourselves and to reimagine how we see ourselves. We need to laugh, to learn new skills, to be alone when we choose to, and to be part of a community when the mood takes us. Our beautiful lodge in the heart of rain forest is a world unto itself. Luxury in nature. A place for new beginnings and fresh discoveries. Come for the writing retreat and holiday and leave rejuvenated, with inspiration and memories to last for months and years to come.
Who joins our creative writing retreats?
Writers attending solo, or with family or friends. Beginners who have never written before, and novelists with manuscripts in the final stages. Men and women between the age of 18 and 90. People who focus entirely on their writing, and others who combine our workshops with daily sightseeing tours. Our trip to Costa Rica is fully escorted from the moment you land in San Jose International Airport, so our creative writing retreat is ideal even for people who have not traveled before. Whoever you are, wherever you live, whatever your needs, you're welcome.
Location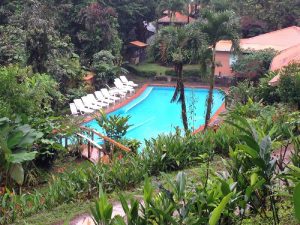 Click here to find out more information about our beautiful location.
Writing workshops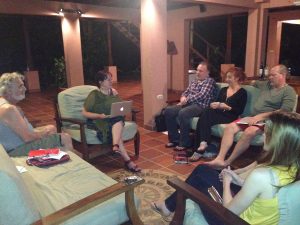 Click here to find out more about our writing workshops and staff.
FAQs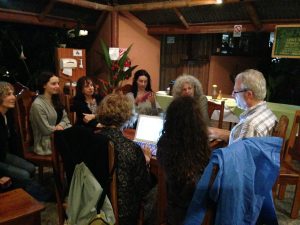 Click here to view frequently asked questions about Centauri Arts Retreats
Testimonials
"I felt so content and safe throughout my stay. This is the most relaxed and peaceful I have ever been."