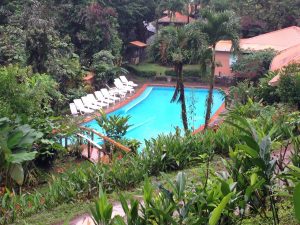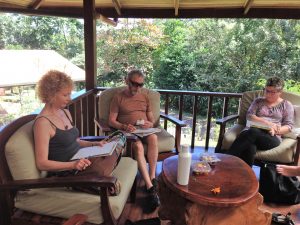 Creative Writing retreats in Costa Rica
Welcome to our Creative Writing Retreat in Finca Luna Nueva, a beautiful rain forest lodge in the heart of Costa Rica.
Imagine writing or reading in a hammock while a flock of parrots screeches by and a sloth blinks lazily at you from a nearby tree. Picture yourself scribbling down ideas while you lie beside a sparkling pool and hummingbirds flit past, attracted by the lush tropical flowers that surround you. Imagine taking writing workshops under a rain forest canopy, filling your notebook with enough prompts to keep you inspired all year long. Sound appealing? Then join us on a creative writing holiday in Costa Rica. Come alone, or bring friends or family. Be part of a community of writers, or take advantage of the serenity to complete a novel.  Our Creative Writing Retreat is for everyone: experienced writers, and those setting words on the page for the first time; people looking for inspiration from new experiences, and seasoned novelists needing dedicated time to complete a project. Write, enjoy the sights, relax, daydream and unwind.
Leave the world behind for one unforgettable week, and be the writer you always wanted to be.
More retreats and holidays coming soon…