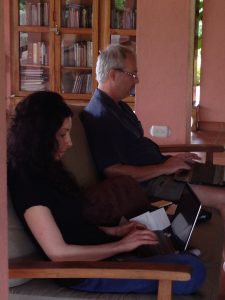 The benefits of a writing retreat go far beyond the solitude to write, and likely those benefits will stay with you for years to come. So what exactly should you be saying at the end of a week on retreat?
I am a writer!
You may love to write – or want to write – but chances are, you spend most of your life being other things – a mother, a teacher, a grandparent, an engineer… whatever. On a writing retreat, you are a writer, pure and simple. Whether you are writing, thinking, jotting down ideas, talking about writing, exploring a prompt, learning a technique, mingling with others who share your goals – you're a writer. There's something liberating about that.
I am inspired!
"I want to write, but I don't know where to start." "I started writing a novel, but now it has stalled." "I have so many ideas – getting them on paper is hard." "Now I'm retired, I want to give this a go." People attend writing retreats for all these reasons, and more. You'll be so surprised how much you can learn in a week. You already hold the key to success within yourself – the talent, the originality, the voice – a great retreat will put you in touch with all that. By the end of the week, you'll have story ideas, plans for future projects, prompts to develop, strategies to try out, a new confidence in yourself as a writer and a notebook bursting at the seams.
I am courageous.
When you go on retreat, you leave your routine behind and strike out in a new direction. That takes courage – and it's empowering. "I can't believe I'm doing this!" were the first words one participant spoke to me when I met her flight in San Jose on last year's retreat – but she was already smiling, exhilarated, delighted she had taken the plunge. It's not only the writing that will give you a new sense of direction when you return home – the very act of attending a retreat will, too.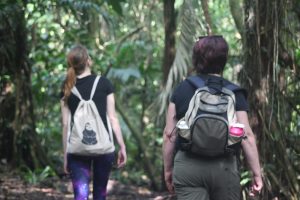 I am enriched by new experiences
On a retreat, new experiences come in many forms. Perhaps you've never been on holiday without family before. Maybe a night walk through the rainforest is entirely new. It could be you haven't seen a toucan yet, or tasted ice cream fruit, or woken at dawn to a cacophony of rainforest songbirds right outside your window. Writing in a hot tub, relaxing in a hammock, making chocolate, drinking kombucha, visiting hot springs – these are all first-time experiences enjoyed by last year's participants. New experiences transform our writing, and they also transform the way we think.
I have a writing community
Writing can be a solitary hobby, and doing it in the company of others is enriching. On a writing retreat, you'll meet people who share your interests. Connections are made as we support each other in workshops, laugh together around the pool, hold deep discussions over dinner and share excursions and small adventures. The connections you make on a writing retreat are often deep, and long-lasting. You'll be part of a community of writers that may be sharing one another's fiction online, long after the week is done.
Julie Hartley
Director